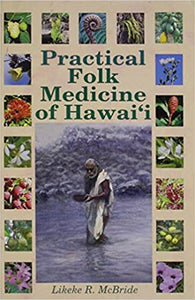 Natural remedies have existed among cultures world-wide from the beginning of time. Folk medicine in Hawai'i today consists of fragments of the knowledge of the Hawaiian medical professionals, including kahuna laau lapaau, along with treatments and plants that have come with immigrants from around the world.
Likeke R. McBride combined his talents as a thorough researcher and botanical illustrator with a life-long interest in folk medicine to produce this book of extraordinary value for students of natural medicines and Hawaiiana. After many years out-of-print, a thorough update and the inclusion of color photos have made this new edition a timely contribution to a subject of growing interest.
Instructions are given for finding, identifying and using plants and other medicinal substances, including the tools needed to do the job. The fully illustrated text features alphabetical listings of plants by both Hawaiian and scientific names, common ailments and the natural products of the islands used to treat them.
Publisher :

Petroglyph Pr Ltd; 2nd edition (October 1, 2014)

Language :

English

Paperback :

120 pages

ISBN-10 :

0912180684

ISBN-13 :

978-0912180687

Item Weight :

12.6 ounces

Dimensions :

5.25 x 0.25 x 8 inches