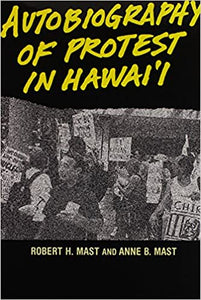 Autobiography explores Hawaii's social and economic fabric through the comments of 35 progressive activists. The activists range in age from the mid 30s to the late 70s and comment on their involvement on issues such as housing, labor, land use, poverty, environment, sexual harassment, seniors, and sovereignty. Almost one-half are women and there is an even split between those born in Hawaii and those born elsewhere.
The book begins with an overview of political activism in Hawaii, and then records the oral history of the 35 acitivists. Each was asked to respond to factors that shaped their moral and political lives. They were invited to explore the forces and events in their past that led them to take on an activist role. The activists were also asked to provide personal assessments of insights gained from their activist experiences and how they can be applied today, their analysis of Hawaii today, and some speculation on Hawaii's future.
The result is a book that produces some very interesting and controversial viewpoints on Hawaii's political socialization and history.
Publisher ‏ : ‎

 

University of Hawaii Press; Illustrated edition (January 1, 1997)

Language ‏ : ‎

 

English

Paperback ‏ : ‎

 

456 pages

ISBN-10 ‏ : ‎

 

0824817842

ISBN-13 ‏ : ‎

 

978-0824817848

Item Weight ‏ : ‎

 

3.17 pounds

Dimensions ‏ : ‎

 

6.06 x 1.08 x 8.97 inches