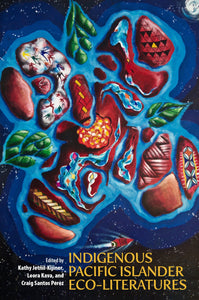 In this anthology of contemporary eco-literature, the editors have gathered an ensemble of a hundred emerging, mid-career, and established Indigenous writers from Polynesia, Melanesia, Micronesia, and the global Pacific diaspora. This book itself is an ecological form with rhizomatic roots and blossoming branches. Within these pages, the reader will encounter a wild garden of genres, including poetry, chant, short fiction, novel excerpts, creative nonfiction, visual texts, and even a dramatic play—all written in multilingual offerings of English, Pacific languages, pidgin, and translation. Seven main themes emerge: "Creation Stories and Genealogies," "Ocean and Waterscapes," "Land and Islands," "Flowers, Plants, and Trees," "Animals and More-than-Human Species," "Climate Change," and "Environmental Justice." This aesthetic diversity embodies the beautiful bio-diversity of the Pacific itself.
The urgent voices in this book call us to attention—to action!—at a time of great need. Pacific ecologies and the lives of Pacific Islanders are currently under existential threat due to the legacy of environmental imperialism and the ongoing impacts of climate change. While Pacific writers celebrate the beauty and cultural symbolism of the ocean, islands, trees, and flowers, they also bravely address the frightening realities of rising sea levels, animal extinction, nuclear radiation, military contamination, and pandemics.
Indigenous Pacific Islander Eco-Literatures reminds us that we are not alone; we are always in relation and always ecological. Humans, other species, and nature are interrelated; land and water are central concepts of identity and genealogy; and Earth is the sacred source of all life, and thus should be treated with love and care. With this book as a trusted companion, we are inspired and empowered to reconnect with the world as we navigate towards a precarious yet hopeful future.