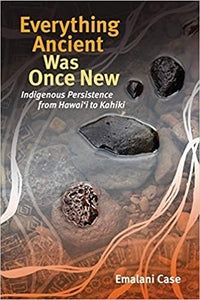 In Everything Ancient Was Once New, Emalani Case explores Indigenous persistence through the concept of Kahiki, a term that is at once both an ancestral homeland for Kānaka Maoli (Hawaiians) and the knowledge that there is life to be found beyond Hawaiʻi's shores. Kahiki is therefore both a symbol of ancestral connection and the potential that comes with remembering and acting upon that connection. Tracing physical, historical, intellectual, and spiritual journeys to and from Kahiki, Case frames it as a place of refuge and sanctuary, a place where ancient knowledge can constantly be made anew. It is in Kahiki, and in the sanctuary it creates, that today's Kānaka Maoli can find safety and reprieve from the continued onslaught of settler colonial violence while confronting some of the uncomfortable and challenging realities of being Indigenous in Hawaiʻi, in the Pacific, and in the world.

The book engages with Kahiki as a shifting term employed by Kānaka Maoli to explain their lives and experiences at different points in history. Case argues for reactivated and reinvigorated engagements with Kahiki to support ongoing work aimed at decolonizing physical and ideological spaces and to reconnect Kānaka Maoli to peoples and places in the Pacific region and beyond in purposeful, meaningful ways. By tracing Kahiki through pivotal moments in history and critical moments in contemporary times, Case demonstrates how the idea of Kahiki―while not always mentioned by name―was, and is, always full of potential.

Intertwining personal narrative with rigorous research and analysis, Case weaves the past and the present together, reflecting on ancient concepts and their continued relevance in movements to protect lands, waters, and oceans; to fight for social justice; to reexamine our responsibilities to each other across the Pacific region; and to open space for continued dialogue on what it means to be Indigenous when at home and when away. Everything Ancient Was Once New journeys to and from Kahiki, offering readers a sanctuary for reflection, deep learning, and continued dreaming with the past, in the present, and far into the future.
Publisher :

University of Hawaii Press (February 28, 2021)

Language :

English

Paperback :

160 pages

ISBN-10 :

082488681X

ISBN-13 :

978-0824886813

Item Weight :

8.8 ounces

Dimensions :

6 x 0.4 x 9 inches