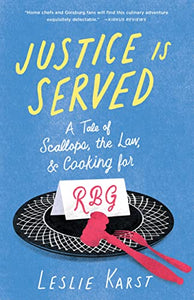 When Leslie Karst learned that her offer to cook dinner for Supreme Court Justice Ruth Bader Ginsburg and her renowned tax law professor husband, Marty, had been accepted, she was thrilled—and terrified. A small-town lawyer who hated her job and had taken up cooking as a way to add a bit of spice to the daily grind of pumping out billable hours, Karst had never before thrown such a high-stakes dinner party. Could she really pull this off?

Justice Is Served is Karst's light-hearted, earnest account of the journey this unexpected challenge launched her on—starting with a trip to Paris for culinary inspiration, and ending with the dinner itself. Along the way, she imparts details of Ginsburg's transformation from a young Jewish girl from Flatbush, Brooklyn, to one of the most celebrated Supreme Court justices in our nation's history, and shares recipes for the mouthwatering dishes she came up with as she prepared for the big night. But this memoir isn't simply a tale of prepping for and cooking dinner for the famous RBG; it's also about how this event, and all the planning and preparation that went into it, created a new sort of connection between Karst, her partner, and her parents, and also inspired Karst to make life changes that would reverberate far beyond one dinner party.

A heartfelt story of simultaneously searching for delicious recipes and purpose in life, Justice Is Served is an inspiring reminder that it's never too late to discover—and follow—your deepest passion.
Publisher ‏ : ‎

 

She Writes Press (April 4, 2023)

Language ‏ : ‎

 

English

Paperback ‏ : ‎

 

288 pages

ISBN-10 ‏ : ‎

 

1647424585

ISBN-13 ‏ : ‎

 

978-1647424589

Item Weight ‏ : ‎

 

13.6 ounces

Dimensions ‏ : ‎

 

5.25 x 1 x 8.25 inches