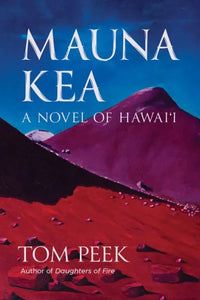 A boundary-bridging novel that will surprise, captivate, and move readers who thought they knew Hawaiʻi; an age-old story of healing a seared heart and finding home.  
Mauna Kea: A Novel of Hawai'i is a gripping tale of clashing passions—science and spirituality, vengeance and compassion, fear and courage—set atop Hawaiʻi's 14,000-foot Mauna Kea, realm of revered goddesses and star-wise explorers. A young vagabond running from America's turmoil is forced to confront his own grief and rage on an embattled holy mountain in the Pacific. There he encounters a mysterious domain of ancient mountain deities and the Native Hawaiians who revere them, including two wise elders who take him under their wings and a young woman with a world-weary heart akin to his own. Through his startling experiences with them—and a motley cadre of other islanders—he learns the power of aloha and discovers an untapped reservoir of faith and courage that rekindles his hope in himself and in the world we share. 
Includes an illustrated map and 12 original pen-and-ink drawings made especially for the novel by John D. Dawson.