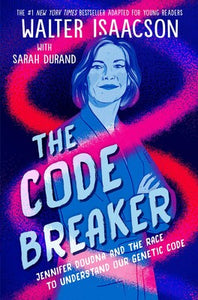 Jennifer Doudna and the Race to Understand Our Genetic Code
Walter Isaacson's #1 New York Times bestselling history of our third scientific revolution: CRISPR, gene editing, and the quest to understand the code of life itself, is now adapted for young readers!

When Jennifer Doudna was a sixth grader in Hilo, Hawaii, she came home from school one afternoon and found a book on her bed. It was The Double Helix, James Watson's account of how he and Francis Crick had discovered the structure of DNA, the spiral-staircase molecule that carries the genetic instruction code for all forms of life.

This book guided Jennifer Doudna to focus her studies not on DNA, but on what seemed to take a backseat in biochemistry: figuring out the structure of RNA, a closely related molecule that enables the genetic instructions coded in DNA to express themselves. Doudna became an expert in determining the shapes and structures of these RNA molecules—an expertise that led her to develop a revolutionary new technique that could edit human genes.

Today gene-editing technologies such as CRISPR are already being used to eliminate simple genetic defects that cause disorders such as Tay-Sachs and sickle cell anemia. For now, however, Jennifer and her team are being deployed against our most immediate threat—the coronavirus—and you have just been given a front row seat to that race.
Publisher ‏ : ‎

 

Simon & Schuster Books for Young Readers; Young Readers ed. edition (April 26, 2022)

Language ‏ : ‎

 

English

Hardcover ‏ : ‎

 

336 pages

ISBN-10 ‏ : ‎

 

1665910666

ISBN-13 ‏ : ‎

 

978-1665910668

Reading age ‏ : ‎

 

10 years and up

Lexile measure ‏ : ‎

 

1180L

Grade level ‏ : ‎

 

5 - 8

Item Weight ‏ : ‎

 

14.4 ounces

Dimensions ‏ : ‎

 

5.5 x 1 x 8.25 inches