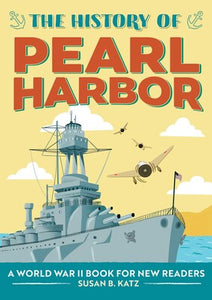 Explore the history of Pearl Harbor—the attack that brought America into World War 2

On December 7, 1941, the Japanese military launched a surprise attack against the Pearl Harbor naval base in Oahu, Hawaii. The next day, President Roosevelt declared war and America entered into World War 2. Go on a suspenseful journey with this colorfully illustrated story about World War 2 for kids. It takes you through all the events that led up to the attack on Pearl Harbor, the attack itself, and the impact it had on the future of the war.

This book about Pearl Harbor and World War 2 for kids includes:

A visual timeline—Take a look at all the important details of the Pearl Harbor attack with a timeline marking the major milestones.
Core curriculum—Learn the Who, What, Where, When, Why, and How of Pearl Harbor, and take a quick quiz to test your knowledge after you finish this book about World War 2 for kids.
Lasting change—Explore thought-provoking questions that help you better understand how the events at Pearl Harbor affected the world you live in today.


Learn about "the day that will live in infamy" with this engaging book about World War 2 for kids.
Publisher ‏ : ‎

 

Rockridge Press (May 25, 2021)

Language ‏ : ‎

 

English

Paperback ‏ : ‎

 

68 pages

ISBN-10 ‏ : ‎

 

1648769101

ISBN-13 ‏ : ‎

 

978-1648769108

Reading age ‏ : ‎

 

7 - 10 years, from customers

Lexile measure ‏ : ‎

 

940L

Grade level ‏ : ‎

 

1 - 2

Item Weight ‏ : ‎

 

4.3 ounces

Dimensions ‏ : ‎

 

5.83 x 0.19 x 8.27 inches