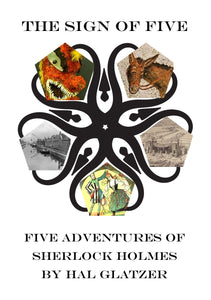 Containing five new adventures of Sherlock Holmes, traditional in style and true to the Arthur Conan Doyle originals.
One story is "The God of War," which has a Hawaii connection. In 1887, royalty from around the world traveled to London for Queen Victoria's "Golden Jubilee," celebrating her fifty years on the throne. And among those visiting royals were Hawaii's Crown Princess Lili'uokalani, her husband John Owen Dominis, and her sister-in-law Queen Kapiolani, the wife of Lili'uokalani's brother, King David Kalakaua.
That much is true. For Hal Glatzer, having Lili'uokalani in London was a perfect opportunity to bring her together with his favorite—albeit fictional—Victorian hero: Sherlock Holmes. In his new story, Lili'uokalani needs Holmes to recover a stolen artifact vital to the cultural and political life of Hawaii's royal family: a feathered statuette of Kukailimoku, the ancient god of war.
 Glatzer has deep roots in Hawaii, having lived one-third of his life in here. Locally known as both a musician and a journalist, he is the author of several mystery books. And in 2010, his play, "Sherlock Holmes and the Volcano Horror" drew sell-out crowds to the stage at EHCC.