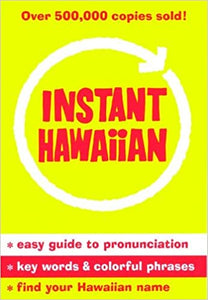 Now in its 45th printing with over 500,000 copies sold! Most people think the Hawaiian language is a primitive kind of communication that can express only a few primary ideas. Far from it! The most definitive Hawaiian Dictionary contains over 26,000 entries, including many unique terms which reflect the picturesque history, culture and geography of Hawaii.
Hence, this Instant Hawaiian word guide is by no means a complete vocabulary. It is, rather, an introduction to terms, in common usage by seasoned residents of Hawaii to help you recognize – both by sight and sound – key expressions which are apt to occur most frequently during everyday conversations in the 50th State.
• Easy guide to pronunciation
• Key words and colorful phrases
• Find your Hawaiian name
Instant Hawaiian has been selected by the Hawaii State Tourism Training Council to educate and certify professional guides and tour drivers in the Hawaiian Islands.
Publisher :

Robert Boom; New, Revised edition (October 1, 2012)

Language :

English, Hawaiian

Paperback :

48 pages

ISBN-10 :

0933978014

ISBN-13 :

978-0933978010

Item Weight :

2.4 ounces

Dimensions :

6 x 4.1 x 0.15 inches