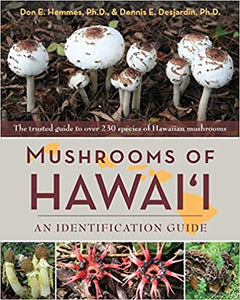 Hawai'i is known for its verdant mountains and colorful ocean ecosystems, but few realize the depth and range of the islands' mushroom diversity. In fact, Hawai'i is home to over 230 species of mushrooms that are prized by foragers from around the world. 
In Mushrooms of Hawai'i, Don Hemmes and Dennis Desjardin present a beautiful and comprehensive guide to the treasure trove of mycological life in the Aloha State. Inside you'll find information on
Mushroom identification
Culinary and medicinal uses of Hawaiian mushrooms
Where to find the best mushroom-hunting spots
The seasonality of Hawaiian mushrooms
And everything else you might need to make your foraging adventure a success. 
Mushrooms of Hawai'i also includes beautiful illustrations to help you identify familiar treasures like morels, well-known dangers like Amanita muscaria, and exciting species unique to the islands. Whether you're hunting Copelandia cyanescens ("magic" mushrooms) in the pasture grasses high in the mountains of Maui, or foraging for Laetiporus (chicken of the woods), an edible mushroom sought after by foodies for its uniquely delicious taste, this book is the must-have guide for fungophiles.
Publisher :

Echo Point Books & Media (October 14, 2016)

Language :

English

Paperback :

226 pages

ISBN-10 :

1626541825

ISBN-13 :

978-1626541825

Item Weight :

1.35 pounds

Dimensions :

8 x 0.61 x 10 inches