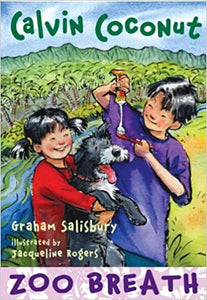 What's stinkier than dog breath? Hawaii's Calvin Coconut is on a mission to find out!

Hawaii boy Calvin Coconut is a fourth-grade whiz kid: he has convinced his mom to let him adopt a dog. But Mom says Streak smells bad. Especially her breath. To Calvin, Streak's stink is a good one, but he's worried. If he doesn't come up with a way to deal with Streak's zoo breath soon, Mom might make him give his dog back to the shelter. So when his teacher assigns the class a discovery project, Calvin teams up with his pal Julio to find a way to fix Streak's bad breath.
Zoo Breath is full of fun . . . and great stinks. Calvin Coconut's discoveries will delight readers who have grown to love him, as well as those new to this series by Graham Salisbury, with charming illustrations by Jacqueline Rogers.
Illustrated by Jacqueline Rogers
Publisher :

Wendy Lamb Books (September 14, 2010)

Language :

English

Library Binding :

160 pages

ISBN-10 :

0385906420

ISBN-13 :

978-0385906425

Item Weight :

8.8 ounces

Dimensions :

6.09 x 0.67 x 8.03 inches