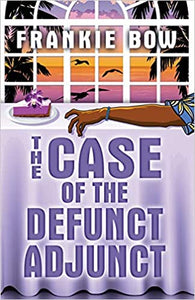 "Follow your dreams, and you'll never work a day in your life. Because that field's not hiring."

Molly Barda earned her Ph.D. in literature and creative writing from a top-ten doctoral program. After a year of fruitless job-hunting, she finally landed a job at remote Mahina State University ("Where Your Future Begins Tomorrow!"), in rural Hawaii. Teaching resume-writing. In the Business School.

Molly longs for working air conditioning. She sits on a yoga ball because there is no budget for office furniture. Her dean, unwilling to lose paying customers, won't let her report cheating students. But Molly's determined to bloom where she's planted, enjoy the tropical beauty of her new home, and stay out of trouble until she gets tenure.

Forced to attend the Student Retention Office's summer retreat, Professor Molly brings her game of buzzword bingo to fend off boredom. When a serial harasser collapses face-first into his haupia cheesecake, the event goes from dull to disastrous.

Now Molly has to fight to keep her best friend out of the worst kind of trouble — and herself off the unemployment line.

If you like Dorothy Parker, P.G. Wodehouse, or E.F. Benson's Mapp and Lucia stories, you'll enjoy this tale of passion, pilferage, and petty politics in the middle of the Pacific.
Publisher :

Hawaiian Heritage Press (December 2, 2015)

Language :

English

Paperback :

258 pages

ISBN-10 :

1943476020

ISBN-13 :

978-1943476022

Item Weight :

11.7 ounces

Dimensions :

5.5 x 0.65 x 8.5 inches