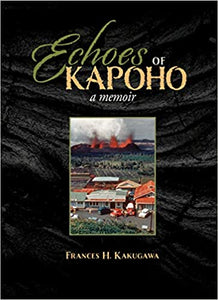 When your hometown is buried by lava, can you ever go home again? A writer who spent her childhood yearning to escape her sleepy Hawaii plantation village can't escape the pull of her roots, even long after the town is destroyed by the Hawaiian fire goddess Pele. In Echoes of Kapoho, Frances H. Kakugawa revisits her barefoot early days in the backwater of Kapoho, downslope from one of the world's most active volcanoes, and picks up the tale of where life leads her after Kilauea's historic 1960 eruption consumes the village.

Restless and headstrong, blessed with a vivid imagination, a passion for writing and a penchant for forbidden books, Kakugawa was raised amid the anti-Japanese fervor of wartime Hawaii. Back then, she longed to leave her hardscrabble hometown, with its kerosene lamps and outhouses stocked with Sears catalogs for toilet paper. Kapoho vanished under lava not long after she left Hawaii Island to attend the University of Hawaii at Manoa in Honolulu. After that, Kakugawa became a teacher, an acclaimed poet and a nationally recognized authority on family caregiving, traveling from coast to coast giving lectures, teaching workshops and coaching budding writers and caregivers.

Echoes of Kapoho includes material published in an earlier memoir, Kapoho: Memoir of a Modern Pompeii, (Watermark Publishing, 2011), adds new vignettes from "small kid time" and then chronicles Kakugawa's quest throughout adulthood to reach the goals she set back in the plantation days: Become a published author. Win awards for her writing. Go to Paris. Be on TV. For those familiar with Kakugawa's other books, Echoes of Kapoho also offers insight into the backstories of the characters and poems in her past work.
Item Weight :

1.92 pounds

Hardcover :

220 pages

ISBN-13 :

978-1948011273

Publisher :

Watermark Publishing (December 5, 2019)

Language:  

English