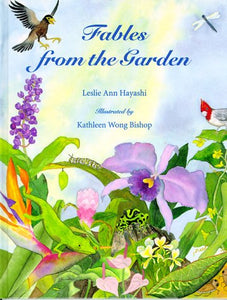 Illustrator Kathleen Wong Bishop
Children will delight in this charming collection of stories featuring plants and animals often seen in Hawaii's gardens. A lone orchid finds friendship among roses; a kind albatross teaches a young frog about the joy of discovery; two greedy mynahs learn about sharing; a lazy blue ginger is encouraged to blossom.

As a good fable should, each of these wondrous tales offers a valuable lesson at the end -- but it's one that goes down with a smile. Here are ten stories from a Hawaiian garden that will entertain and guide young and old, all illustrated in brilliant watercolors.

Recommended for ages 4 and up.
Publisher :

 

University of Hawaii Press (June 1, 1998)

Language :

 

English

Hardcover :

 

40 pages

ISBN-10 :

 

0824820363

ISBN-13 :

 

978-0824820367

Reading age :

 

4 - 8 years

Grade level :

 

Preschool - 4

Item Weight :

 

13.8 ounces

Dimensions :

 

8.44 x 0.34 x 11.14 inches