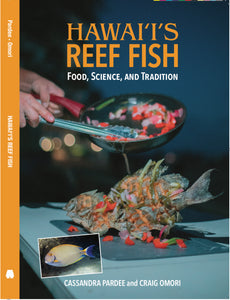 Hawaii's Reef Fish: Food, Science and Tradition combines more than 50 recipes from local lawaiʻa across the Hawaiian Islands. But this isn't your average cookbook. This is a cookbook for sustainable fishing, combining traditional Hawaiian uses with marine science.
The book includes information on more than 30  coral reef species such as: biology, ecology, fishing regulations, state catch records, and descriptions of traditional Hawaiian uses. All this information is paired with beautiful underwater fish photos from local photographers to help with fish identification.
This cookbook can be a resource for new and seasoned fishers alike. Those new to fishing can use it to learn what species and sizes of fish to target to fish pono, while the saltier among us may find information on other fish they have never targeted before.