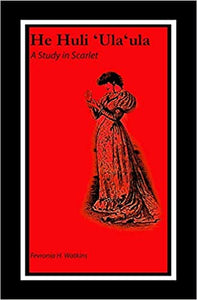 Dear Reader, When first I left my home of Worcester, Massachusetts, in the fair hills and glens of New England, I had no idea that I would be caught up in chronicling the adventures of my cousin, Lydia Kamakaʻimiʻike Kāwau Holmes. Her Father was Brother to my Mother, but the relationship had grown so distant that I was in greatest trepidation during the entirety of my voyage to her isles, and entirely unsure of what welcome I should receive. None in Worcester had mentioned this Uncle, nor his daughter, to me, and so I was ignorant of the relationship until after the death of both my parents and I was instructed to pack all of my belongings to leave my dear home.
~ Fevronia H. Watkins

As the literary agent Sir Arthur Conan Doyle brought to life the words of Dr. John Watson, so Leilehua Yuen brings to life the words of Miss Fevronia Watkins, chronicler of Miss Lydia Kamakaʻimiʻike Kāwau Holmes.

Publisher :

Independently published (November 25, 2020)

Language :

English

Paperback :

181 pages

ISBN-13 :

979-8638833619

Dimensions :

5.25 x 0.41 x 8 inches