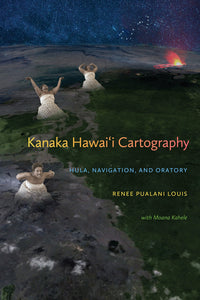 Hawai'ian performance cartography is an interactive presentation of place as 'experienced space' that situates mapping in the environment, and encodes spatial knowledge into bodily memory via repetitive recitations and other habitual practices.
 
An important symbolic element in Hawai'ian cartography is the storied place name, which reflects Hawai'ian spatial knowledge of the environment. Many Hawai'ian place names performed in daily rituals were a conscious act of locating genealogical connections, recreating cultural landscapes, and regenerating cultural mores. They constitute a critically important body of Hawai'ian cultural knowledge. When Hawai'ian place names were incorporated into Western cartographic maps they were transformed epistemologically. They went from representing place as a repository of cultural knowledge to representing place as an object on the landscape. Hawai'ian spatial knowledge presentation is interactive, multi-sensual, and multi‐ dimensional.
 
Kanaka Hawai'i Cartography interweaves methodology with personal narrative and performance presentation in a playbill format. Three of the seven chapters are presented as "Acts" in a play. The remaining four chapters serve as intermissions or interludes together with a prologue and an epilogue for setting the stage and providing closure. To help make the topic more accessible, complex terms have been minimized, making academic theory easier for the educated reader to understand. The book will fill an important gap in Indigenous and Native Studies and will be welcomed by anyone interested in traditional Hawai'ian performance cartography.
Publisher ‏ : ‎

Oregon State University Press; 1st edition (April 15, 2017)

Language ‏ : ‎

English

Paperback ‏ : ‎

256 pages

ISBN-10 ‏ : ‎

0870718894

ISBN-13 ‏ : ‎

978-0870718892

Item Weight ‏ : ‎

1 pounds

Dimensions ‏ : ‎

6 x 0.9 x 9 inches