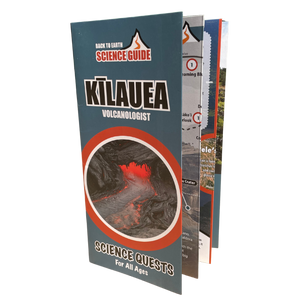 Nestled in Hawai'i Volcanoes National Park, the Kīlauea volcano is a must-see marvel of nature. To enrich the visitor experience, this educational brochure takes hikers on an interactive adventure around Kīlauea's Crater Rim and the Chain of Craters. The guide follows a classic tour sequence on the volcano, including the Summit, Sulphur Banks, Kīlauea Iki, and the Chain of Craters.
With eight double sided, full colour panels, we've jam-packed this brochure with stunning photos, informative graphics, accessible science facts, and activities for all ages. Each quest is designed to offer a sensory experience as well as a brain workout, and tackles topics like tree molds, volcanic plants, sulphur crystals, and more.
This educational guide is lightweight and water-resistant.
Product Details
| | |
| --- | --- |
| Language | English (US) |
| ISBN | 978-1-7752605-0-9 |
| Released | March 2019 |
| Size | 94mm x 210mm (folded) |