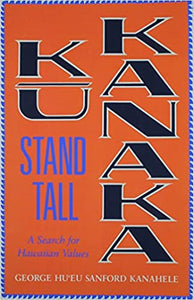 In a rigorous and comprehensive volume, the former BYU student carefully defines the qualities influencing the lives of pre–Captain Cook Hawaiians, qualities that still cling to some like a scent of leis today. Without minimizing such atrocities as human sacrifice which have been practiced in other countries around the world, Kanahele suggests that by increasing our awareness and adopting Hawaiian values we can do more than we are currently doing to adapt to the changes being wrought not only on the Hawaiian islands but on all of us in the areas of technology, economics, leadership, and politics.
Outstanding thinkers of the Western world are pulled into his creation, adding luster, interest, and academic panache to this highly readable book.
George H. S. Kanahele, 1930–2000, received the Hawaii Book Publishers Association John Dominis Holt Award in 2000 for his significant contribution to Hawaii publishing. He is also the author of Waikiki 100 B.C. to 1900 A.D.: An Untold Story (UH Press, 1996) and Emma: Hawaii's Remarkable Queen (UH Press for the Queen Emma Foundation, 1999).
Paperback :

529 pages

ISBN-13 :

978-0824815004

Dimensions :

5.98 x 1.18 x 9.08 inches

Publisher :

University of Hawaii Press (January 31, 1986)

Item Weight :

1.66 pounds

Language: :

English