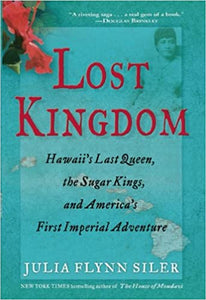 Around 200 A.D., intrepid Polynesians paddled thousands of miles across the Pacific and arrived at an undisturbed archipelago. For centuries, their descendants lived with almost no contact from the Western world but in 1778 their profound isolation was shattered with the arrival of Captain Cook. Deftly weaving together a memorable cast of characters, Lost Kingdombrings to life the ensuing clash between the vulnerable Polynesian people and the relentlessly expanding capitalist powers. Portraits of royalty, rogues, sugar barons, and missionaries combine into a sweeping tale of the Hawaiian kingdom's rise and fall.

At the center of the story is Lili'uokalani, the last queen of Hawaii. Born in 1838, she lived through the nearly complete economic transformation of the islands. Lucrative sugar plantations owned almost exclusively by white planters, dubbed the "Sugar Kings," gradually subsumed the majority of the land. Hawaii became a prize in the contest between America, Britain, and France, each of whom were seeking to expand their military and commercial influence in the Pacific.

Lost Kingdom is the tragic story of Lili'uokalani's family and their fortunes. The monarchy had become a figurehead, victim to manipulation from the wealthy sugar-plantation owners. Upon ascending to the throne, Lili'uokalani was determined to enact a constitution reinstating the monarchy's power but she was outmaneuvered and, in January 1893, U.S. Marines from the USS Boston marched through the streets of Honolulu to the palace. The annexation of Hawaii had begun, ushering in a new century of American imperialism.
Publisher :

Grove Press; First Edition (stated), First Printing (January 8, 2013)

Language :

English

Paperback :

415 pages

ISBN-10 :

0802120709

ISBN-13 :

978-0802120700

Item Weight :

1.14 pounds

Dimensions :

6 x 1.25 x 9 inches