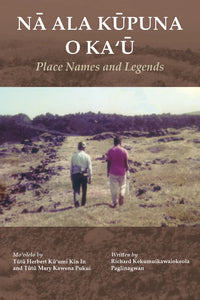 Transmitting the mo'olelo of Tutu Herbert Ku'umi Kin In and Tutu Mary Kawena Pukui
Have you tasted aku palu? Have you ever been to Kumauna's sacred springs? Washed your hands in the lower pool, then drank the cool waters of the upper pool? Have you seen Ka Wai Palahemo at Ka Lae? Have you heard Kawelohea at Pohina? If you have not done any of these, you have not seen Ka'u.
in 1968, Ka'u Natives Herbert Ku'umi Kin In and Mary Kawena Pukui, shared Mo'olelo (Stories) to Richard and Lynette Paglinawan as they traveled through Ka'u, the southernmost part of Hawai'i Island. This special publication is a collection of memories about storied places, songs, and riddles that honor the traditions and people of this wahi pana (legendary place).
May these stories continue to be told.