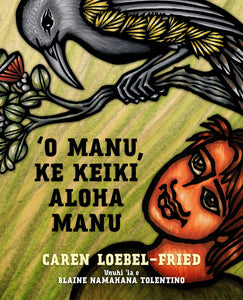 This Hawaiian Edition of Manu, The Boy Who Loved Birds, features the same gorgeous illustrations by Caren Lobel-Fried as the English version, telling a story about conservation, extinction, and culture.

Ma kekahi huaka'i kula i ka Hale Hō'ike'ike 'o Bīhopa ma Honolulu, ua ilihia 'o Manu a me kona mau hoa papa i ka pā'ū mai ka wā kahiko loa, i haku 'ia me ho'okahi miliona mau hulu manu 'ō'ō, kekahi manu maoli Hawai'i i kala loa kona nalowale ʻana. Ua maopopo iā Manu ka mana'o o kona inoa Hawai'i piha, Manu'ō'ōmauloa: "E mau ke ola o ka manu 'ō'ō." Akā, no ke aha lā 'o ia i kapa 'ia ai i ka inoa no kekahi manu nalowale loa?

Ua ha'i 'o Manu i kona mau mākua no kona 'i'ini e ho'onui a'e i kona 'ike no ka manu 'ō'ō, no laila ua 'imi pū lākou ma ka pūnaewele. I ia lā a'e, ua hō'ike ko Manu kumu i nā 'ike hou i kona papa. Nui nā mea e a'o ai! I ke ahu ʻana o nā 'ike hou ma loko ona, nui nā moe'uhane lapakū o Manu i ka manu nona kona inoa. Ma hope o kekahi huaka'i ho'opūʻiwa i ka mokupuni 'o Hawai'i, kahi e 'ike maka ai ka 'ohana i nā manu maoli Hawai'i o ka wao kele i ko lākou wahi noho, ʻakahi nō a maopopo iho ka mana'o o kona inoa a me ke 'ano e kōkua a kāko'o ai ʻo ia i ke ola o nā manu a me nā wao kele.

'O Manu, ke Keiki Aloha Manu he mo'olelo no ka nalowale loa, ka maluō, a me ka 'ike kupuna, i ha'i ʻia maila ma o ka 'ike o ke keiki a me kona noi'ina. A'o 'ia ka mea heluhelu me Manu no ka manu mūkīkī nalowale loa nona ka inoa i kapa ʻia ai ʻo ia, kona ho'oilina 'ike kupuna Hawai'i, a ka pilina ma waena o nā holoholona a me ke kaianoho. I ka 'ōlelo hope, komo aku nō nā 'ike kikoʻī o nā manu wao kele Hawai'i a me nā hulu ali'i o Hawai'i, ka papa wehewehe ʻōlelo, a me ka papa no nā hana e kōkua ai. Ho'owehi 'ia me nā pa'i palaka i pa'a 'ia me nā waiho'olu'u, hō'ike kēia puke i ke akeakamai kaiaola ma ke 'ano kupanaha, me ka wele pū mai i ala no kākou e ho'ōla mau ai i nā holoholona a me nā kaiaola.
Grade level : 1 - 2
Hardcover : 48 pages

ISBN-13 : 978-0824883430
Dimensions : 9.25 x 0.25 x 11 inches
Publisher : Latitude 20; Illustrated edition (May 31, 2020)
Reading level : 8 - 12 years
Language: : Hawaiian