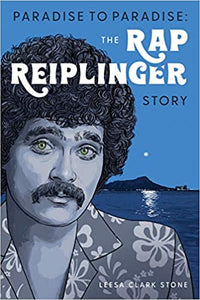 More than four decades after redefining comedy in Hawaii, Rap Reiplinger and his humor are still making people laugh. His iconic catch phrases are forever carved in the memory banks of fans old and new, whether they live in Hawaii or have migrated elsewhere.

Rap's one-liners are comedic glue that bind people together and bridge generations whenever anyone takes a sip of wine and declares it, Not too sweet, not too rancid, but jesss right! That line and other Rapisms make folks laugh, and, whatever their differences, they find common ground in Rap's unique perspective on Hawaii's ethnic melting pot.

These catch phrases are so ingrained in the lexicon and culture of Hawaii that many people who say them today do not even know where they originated. The source is the man whose story lies in the pages of this book.

The New Yorker Magazine called Rap, Hawaii's most popular comedian. . . in the tradtion of Mort Sahl and Lenny Bruce. Rap was the first in Hawaii to win an Emmy award, when his television show, Rap's Hawaii earned the honor for Outstanding Achievement/Entertainment Special.

Rap's groundbreaking work as one of the founding members of the theatrical comedy ensemble Booga Booga, and his solo material have indelibly stamped Rap's name in the rich history of the Hawaiian Renaissance, a revolutionary cultural and artistic movement.
Item Weight :

1.5 pounds

Paperback :

384 pages

ISBN-13 :

978-1573065344

Publisher :

Farknocker Publishing, LLC; 1st edition (May 1, 2019)

Language: :

English