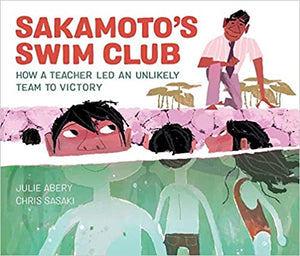 The inspirational and little-known story of a dedicated teacher who coached Hawaiian swimmers all the way to the Olympics, beautifully told in simple rhyme.
When the children of workers on a 1930s Maui sugar plantation were chased away from playing in the nearby irrigation ditches, local science teacher Soichi Sakamoto had an idea. He offered to take responsibility for the children --- and then he began training them how to swim. Using his science background, Sakamoto devised his own innovative coaching techniques: he developed a strict practice regime for the kids, building their strength and endurance by using the ditch water's natural current. The children worked hard under the dedicated Sakamoto's guidance, and their skills improved. They formed a swim club and began to dominate in swimming events around the world. And then one day, the proud Sakamoto saw an impossible dream come true --- Olympic gold!
In a unique approach that makes for a moving read-aloud, Julie Abery uses limited rhyming text to tell the little-known story of Coach Sakamoto and the Three-Year Swim Club. The stunning art of award-winning and highly acclaimed Chris Sasaki perfectly complements the lyrical storytelling.
This inspiring picture book offers excellent lessons in perseverance, believing in yourself, and not letting others define you, while wonderfully capturing how one person can make a huge difference in the lives of others. In highlighting the team's "bright and loud" presence at events, with their Hawaiian dress and ukulele, it also encourages children to take pride in their heritage and view it as a strength. An author's note with photos and more information tells the fuller story of Soichi Sakamoto and his Three-Year Swim Club.