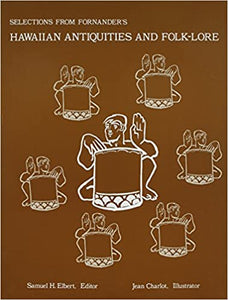 The stories in this book are reprinted from Volumes IV and V of The Fornander Collection of Hawaiian Antiquities and Folk-lore, published by the Bernice P. Bishop Museum in 1917, 1918, and 1919. They include some of the best-loved Hawaiian stories, and the collection is probably the most important work on a traditional subject ever published in the Hawaiian language.
Illustrated by Jean Charlot
Introduction in English, texts of the stories in Hawaiian with English on facing pages.
Publisher :

Univ of Hawaii Press (January 1, 1959)

Language :

English, Hawaiian

Paperback :

305 pages

ISBN-10 :

0870222139

ISBN-13 :

978-0870222139

Item Weight :

1.21 pounds

Dimensions :

8.5 x 1 x 11 inches