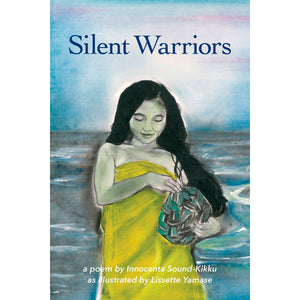 Silent Warriors honors the roles and power of all women through the stories of Micronesian women. People unfamiliar with Micronesia's diverse cultures and rich history tend to misunderstand Micronesian women's notable silence as weakness, or lack of power. The region is traditionally matrilineal and matriarchal. Micronesian women, by nature and nurture, are major sources of implicit power. As the main caretakers of children, they play the biggest role in passing down language, culture, and a sense of identity. Clan lineage and kinship are traced primarily through women. This poem serves as a reminder that the mere presence of a woman is powerful and speaks volumes.  
juvenile nonfiction, social topics, gender
target age: 9-12 years old
Author Innocenta Sound-Kikku, fondly referred to as Mama Inno, is an experienced community health navigator for the Chuukese in Hawaiʻi. She is the founder and coordinator of Pacific Voices, a cultural arts and literacy program with Kokua Kalihi Valley's (KKV) Youth Services. She is also the founder of KKV's NieiRek Micronesian women empowerment program. 
Illustrator Lissette Yamase is a self-taught charcoal artist who creates art in the hopes of preserving and celebrating the profound stories, cultures, and values of the islands she calls home. Lissette was born on the island of Palau and was raised on the islands of Saipan, Chuuk, and Pohnpei.
_____
hardcover   |   36 pages   |   7" x 10"   |   color