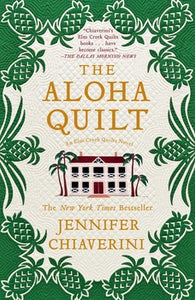 Jennifer Chiaverini, the New York Times bestselling author of Mrs. Lincoln's Dressmaker and Fates and Traitors, continues her popular Elm Creek Quilts series set at a quilter's retreat in scenic Hawaii.

Another season of Elm Creek Quilt Camp has come to a close, and Bonnie Markham faces a bleak and lonely winter ahead, with her quilt shop out of business and her divorce looming. A welcome escape comes when Claire, a beloved college friend, unexpectedly invites her to Maui to help launch an exciting new business: a quilter's retreat set at a bed and breakfast amid the vibrant colors and balmy breezes of the Hawaiian Islands. Soon Bonnie finds herself looking out on sparkling waters and banyan trees, planning quilting courses, and learning the history and intricacies of Hawaiian quilting, all the while helping Claire run the inn.

As Bonnie's adventure unfolds, it quickly becomes clear that Claire's new business isn't the only excitement in store for her. Her cheating, soon-to-be ex-husband decides he wants her stake in Elm Creek Quilts, which threatens not only her financial well-being but her dearest friendships as well. Luckily she has the artistic challenge of creating her own unique Hawaiian quilt pattern to distract her—and new friends like Hinano Paoa, owner of the Nä Mele Hawai'i Music Shop, who introduces Bonnie to the fascinating traditions of Hawaiian culture and reminds her that love can be found when and where you least expect it.
Publisher ‏ : ‎

 

Simon & Schuster; Reprint edition (January 4, 2011)

Language ‏ : ‎

 

English

Paperback ‏ : ‎

 

352 pages

ISBN-10 ‏ : ‎

 

1416533192

ISBN-13 ‏ : ‎

 

978-1416533191

Item Weight ‏ : ‎

 

11.8 ounces

Dimensions ‏ : ‎

 

5.5 x 0.88 x 8.44 inches