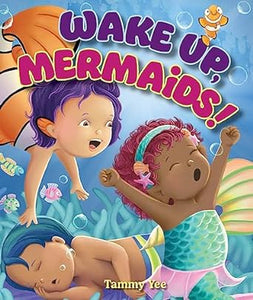 A fun and funny rhyming story about three little mermaids.
When it's time to get up, two of them get up and brush their teeth, comb their hair, and fix their sheets. Then they start their day of fun and play with snacks and visits with friends. But one little mermaid can't seem to keep his eyes open.
When the day is coming to a close, the mermaids say aloha to their friends, head home, and get ready for bed. As the two mermaids settle down the sleep and dream, the one mermaid who couldn't keep his eyes open all day is suddenly awake and ready to play.
This board book will appeal the young kids who will relate to the mermaid's daytime routine. It's a great morning book or bedtime book to read together and spark a conversation about the day that passed or the day coming up.