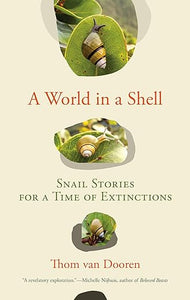 Following the trails of Hawai'i's snails to explore the simultaneously biological and cultural significance of extinction.


In this time of extinctions, the humble snail rarely gets a mention. And yet snails are disappearing faster than any other species. In 
A World in a Shell
, Thom van Dooren offers a collection of snail stories from Hawai'i—once home to more than 750 species of land snails, almost two-thirds of which are now gone. Following snail trails through forests, laboratories, museums, and even a military training facility, and meeting with scientists and Native Hawaiians, van Dooren explores ongoing processes of ecological and cultural loss as they are woven through with possibilities for hope, care, mourning, and resilience.

Van Dooren recounts the fascinating history of snail decline in the Hawaiian Islands: from deforestation for agriculture, timber, and more, through the nineteenth century shell collecting mania of missionary settlers, and on to the contemporary impacts of introduced predators. Along the way he asks how both snail loss and conservation efforts have been tangled up with larger processes of colonization, militarization, and globalization. These snail stories provide a potent window into ongoing global process of environmental and cultural change, including the largely unnoticed disappearance of countless snails, insects, and other less charismatic species. Ultimately, van Dooren seeks to cultivate a sense of wonder and appreciation for our damaged planet, revealing the world of possibilities and relationships that lies coiled within a snail's shell.